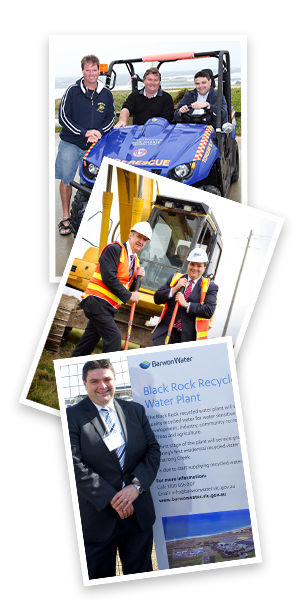 Andrew Katos was first elected to represent the South Barwon Electorate in the Victorian Legislative Assembly in 2010.
"I feel honoured to be chosen to represent the people of South Barwon – you are my Number 1 priority."
Andrew was re-elected as the Member for South Barwon in the 2014 Victorian State election.
As well as representing the community in Parliament, Andrew holds the position of Opposition Whip in the Legislative Assembly.
Andrew, his wife Vicki and their four young boys live locally in Armstrong Creek.
Andrew graduated from Belmont High School in 1987 and went to Deakin University, completing a Bachelor of Commerce in 1990.
For almost 20 years Andrew was the Managing Director of Katos Fish Supply.  This experience as a local business owner/operator has given Andrew a great understanding of the needs of small business in the local community.
Andrew is a dedicated and active member of Geelong and Surf Coast regions, he is a passionate supporter and member of the Geelong Cats, a member of the MCC and is a member to many local sporting, recreational and fishing clubs in his electorate.
Andrew served as a Councillor for the City of Greater Geelong, representing the Deakin Ward from 2008 to 2010.  As a local Councillor Andrew gained a better understanding of the needs of the community.
Fighting for better local services, strengthening law and order measures, improving public transport and fixing roads and infrastructure are priorities for Andrew in South Barwon.
Andrew is always available to discuss issues that matter to you.